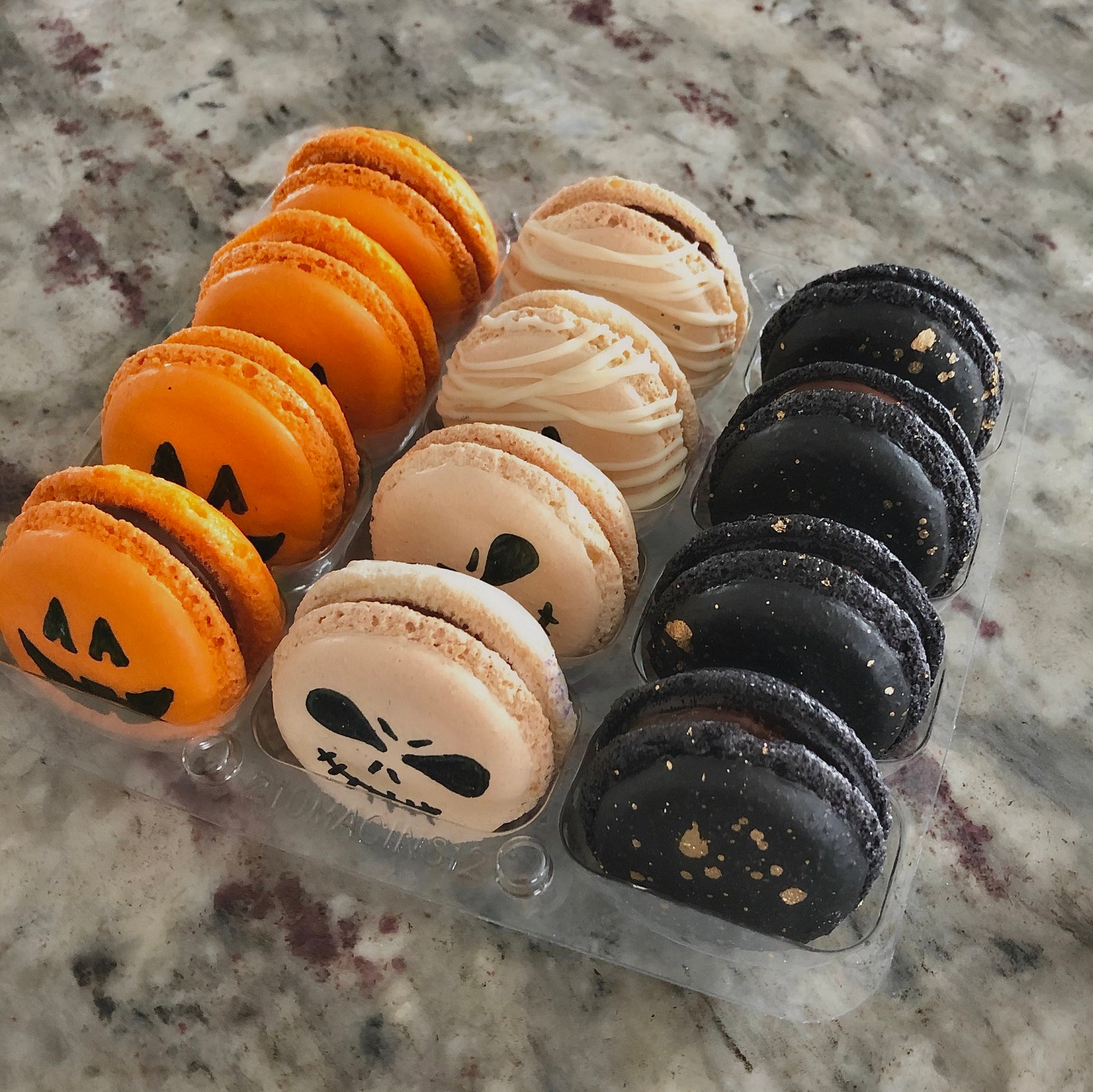 12 Halloween Macarons, Jack O lantern, Mummy, Jack Skellington, Decorative Cookies

12 Decorative Halloween macarons! These macarons are perfect for Halloween themed parties and gatherings. Each order is baked fresh. Your package will consist of 4 different designs- Jack-o-lantern, Mummy, Jack Skeleton, and a black macaron with a gold splatter. There will be three macarons of each design.
There are three flavors to choose from (vanilla, chocolate, orange). You can also click "Surprise me!" for a flavor of our choice. The filling inside will consist of buttercream or ganache, depending on the flavor you choose. They're gluten-free as well.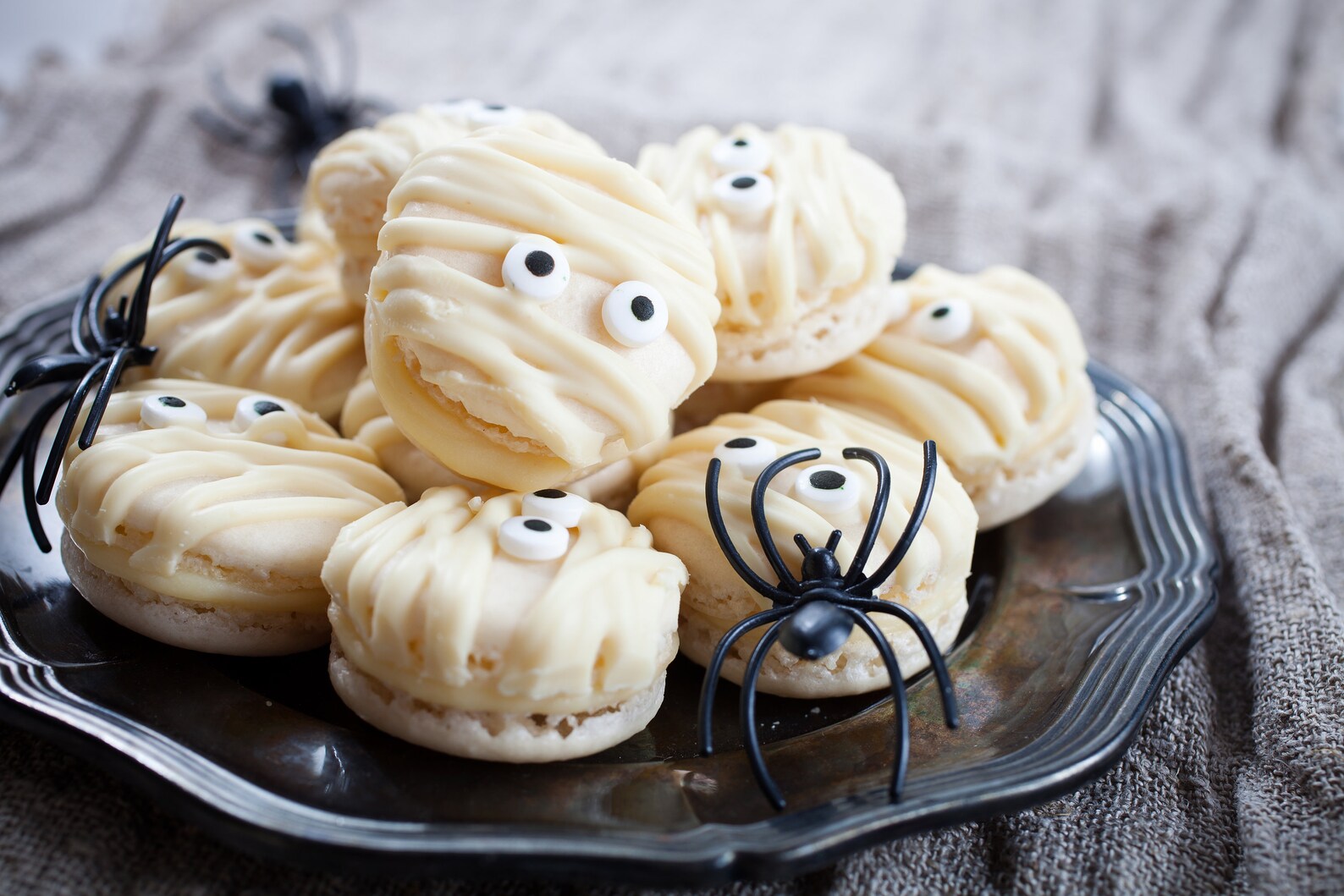 This listing is for 12 – 1 inch mummy macarons.
Make Halloween more festive with these mummies crafted from French macarons.
Macarons are delicate confections made of sugar and almond flour available in a variety of colors and flavors. They have a smooth, crisp shell and a moist, chewy interior. Fillings can range from jams and preserves to caramel to buttercream frosting.
I have loved making macarons, but ultimately ended up getting bored with the same size and shape. As a result, I started to get creative and try new things.
Since each batch is custom made, I am able to make the filling in a number of flavors.
Filling Flavors Include:
Chocolate Ganache
Lemonade Buttercream
Pink Lemonade Buttercream
Cranberry Buttercream
Gingerbread Buttercream
Pumpkin Spice Buttercream
Apple Buttercream
Apple Cherry Buttercream
Mango-Orange Buttercream
Guava-Passion-Fruit Orange Buttercream
Passion Fruit Orange Buttercream
Cranberry Raspberry Buttercream
Orange Buttercream
Coffee Buttercream
Raspberry Buttercream
Peppermint Buttercream
Rum Buttercream
Coconut Buttercream
Hazelnut Chocolate Ganache
Eggnog Buttercream
Strawberry Buttercream
Pistachio Buttercream
Here are More Halloween Cookies
Bat Cookies
Black Cat Cookies
Boo Cookies
Cauldron Cookies
Frankenstein Cookies
Ghost Cookies
Halloween Cookies
Halloween Mickey Mouse Cookies
Haunted House Cookies
Jack O Lantern Cookies
Mini Halloween Cookies
Skeleton Cookies
Skull Cookies
Vampire Cookies
Zombie Cookies
Halloween Oreo Cookies
Halloween Oreo Cookies
Jack O Lantern Oreo Cookies
Mummy Oreo Cookies
Skull Oreo Cookies
Spider Oreo Cookies
Halloween Macarons
Halloween Fortune Cookies
Halloween Fortune Cookies
Skull Fortune Cookies
Zombie Fortune Cookies
Halloween Oreo Cookie Pops
Welcome to Cookie Nibble! Cookies are one of my favorite desserts and favorite topic for a blog because there are so many types of cookies to be enjoyed. I like looking at unique cookie designs for special occasions and holidays and finding interesting designers who make them fun to look at and inspire us to create our own designs. I hope you enjoy looking at these cookies as much as I do and have fun on this site!