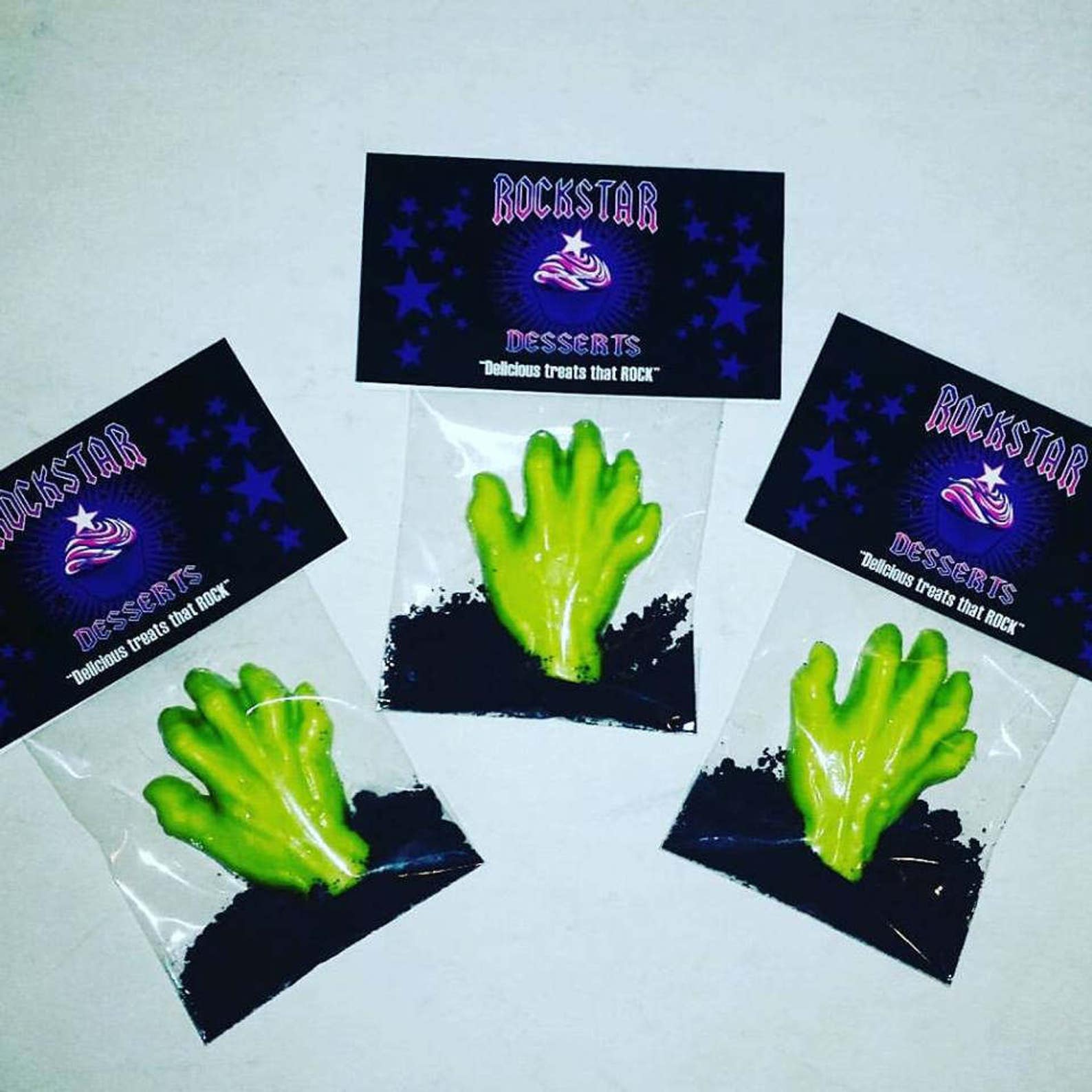 Candy Zombie Hands in Cookie Dirt

White chocolate candy zombie hands rising from a cookie dirt grave.
Great for party favors and goody bags. Listing is for 1 item.
Individually wrapped in food grade bag and heat sealed. Gift box available inquire for options and pricing.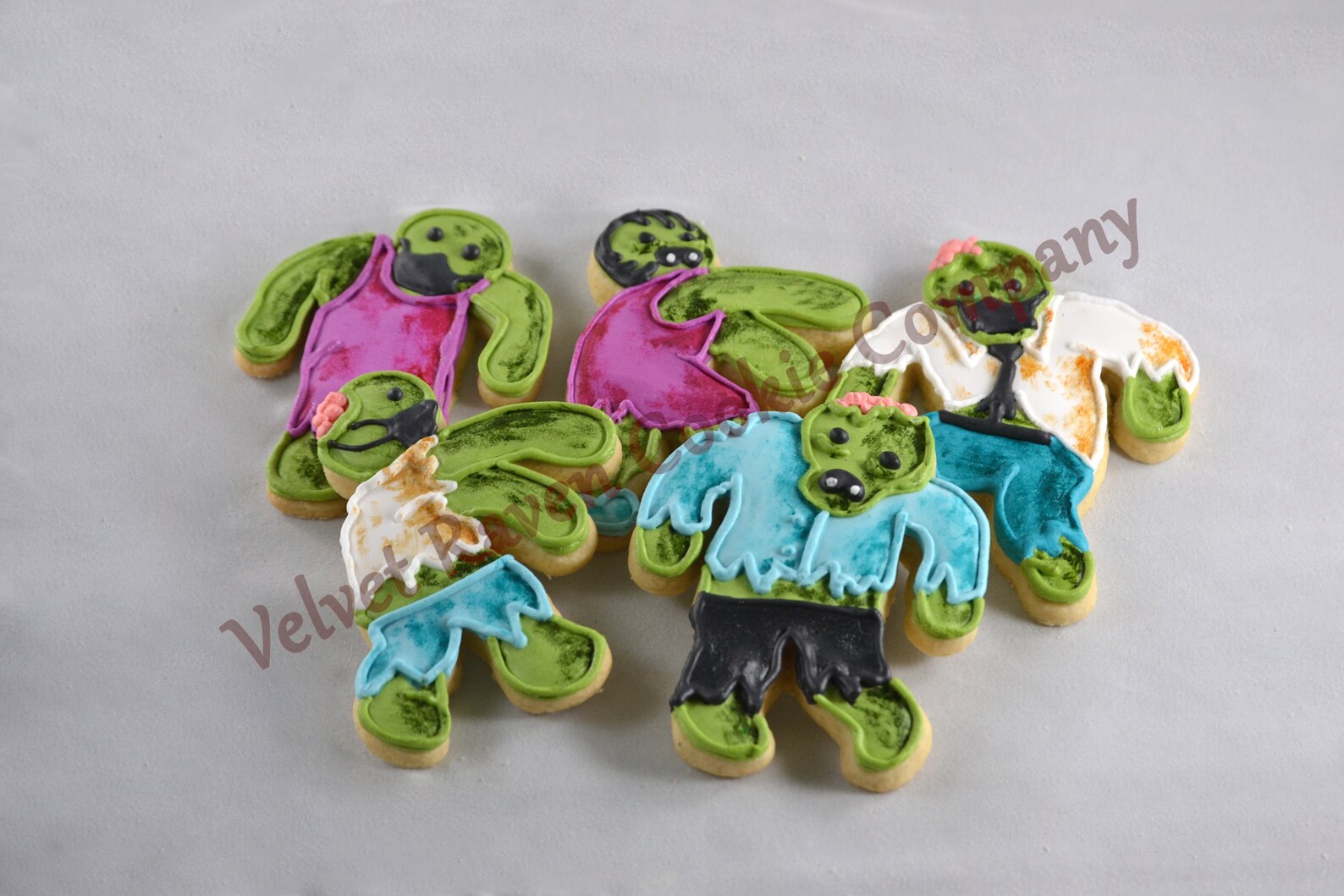 COVID 19 Zombie Halloween Gourmet Decorated Sugar Cookies – Coronavirus Zombies with masks

These handcrafted vanilla/almond sugar cookies will melt in your mouth. Trust us when we say it tastes even better than it looks!
Each dozen of these Coronavirus COVID-19 Zombies (wearing masks) theme cookies will contain the different designs as pictured (designs are approximately 3.5 by 2.5 inches) including 12 variations of the pictured zombies.
These cookies are great for school snacks, Halloween parties, and social distance treats as well. We offer a one dozen gift box option which will include the cookies wrapped in a reusable photo box with a big bow tied around it. Half dozens can be gift wrapped as well in a decorative box with a bow.
A plant-based (vegan) version of every design is available upon request.
Each cookie will be individually heat sealed in a clear cellophane bag, and also individually wrapped in bubble wrap.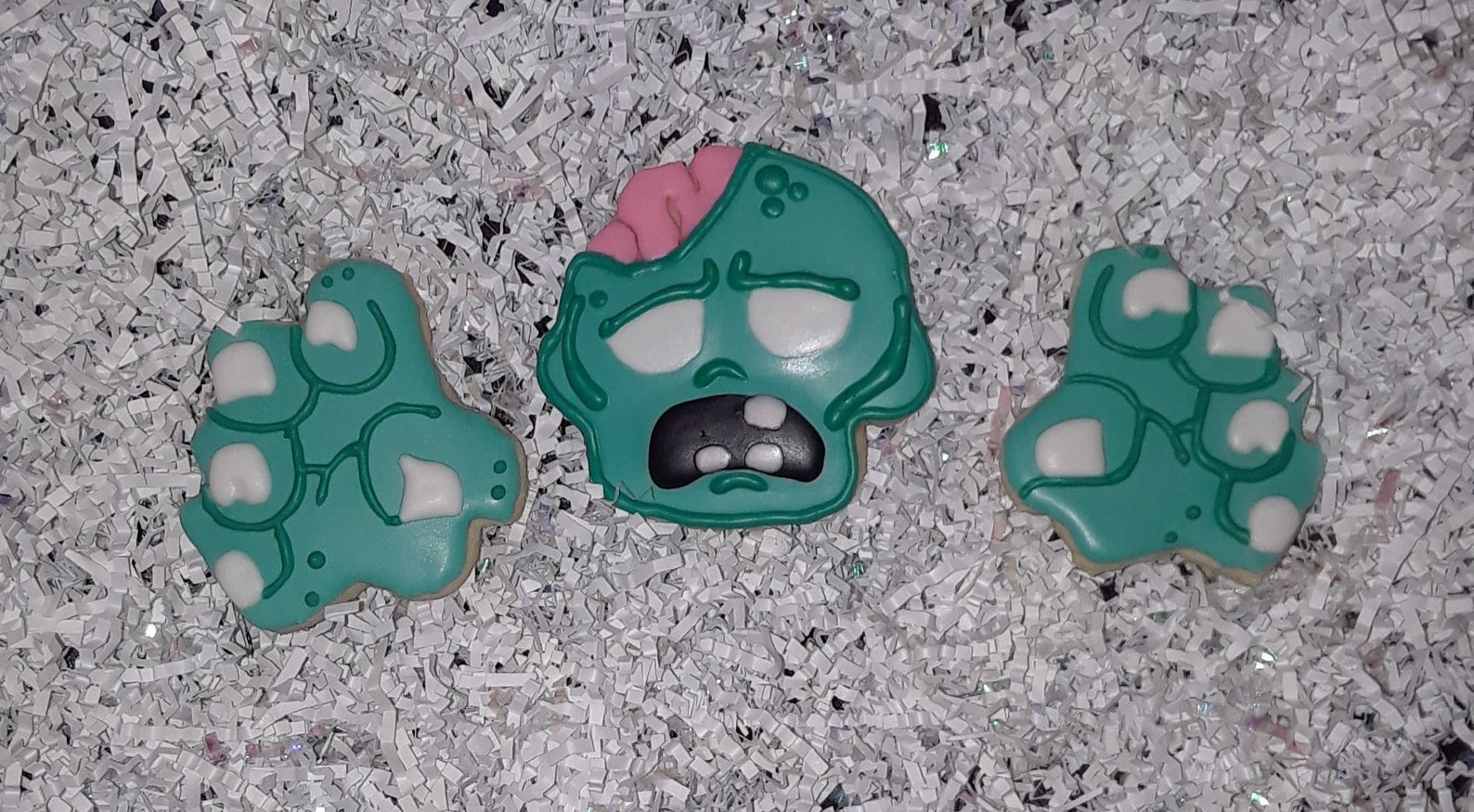 Price includes one (1) dozen.
Each cookie is approximately 3 inches.
Great for Halloween Party!
You can customize this set with personal messages and/or color palette.
Each cookie is hand decorated. I use only the highest quality ingredients in my baked goods.
Each cookie will be placed in a clear cellophane bag and tied with ribbon.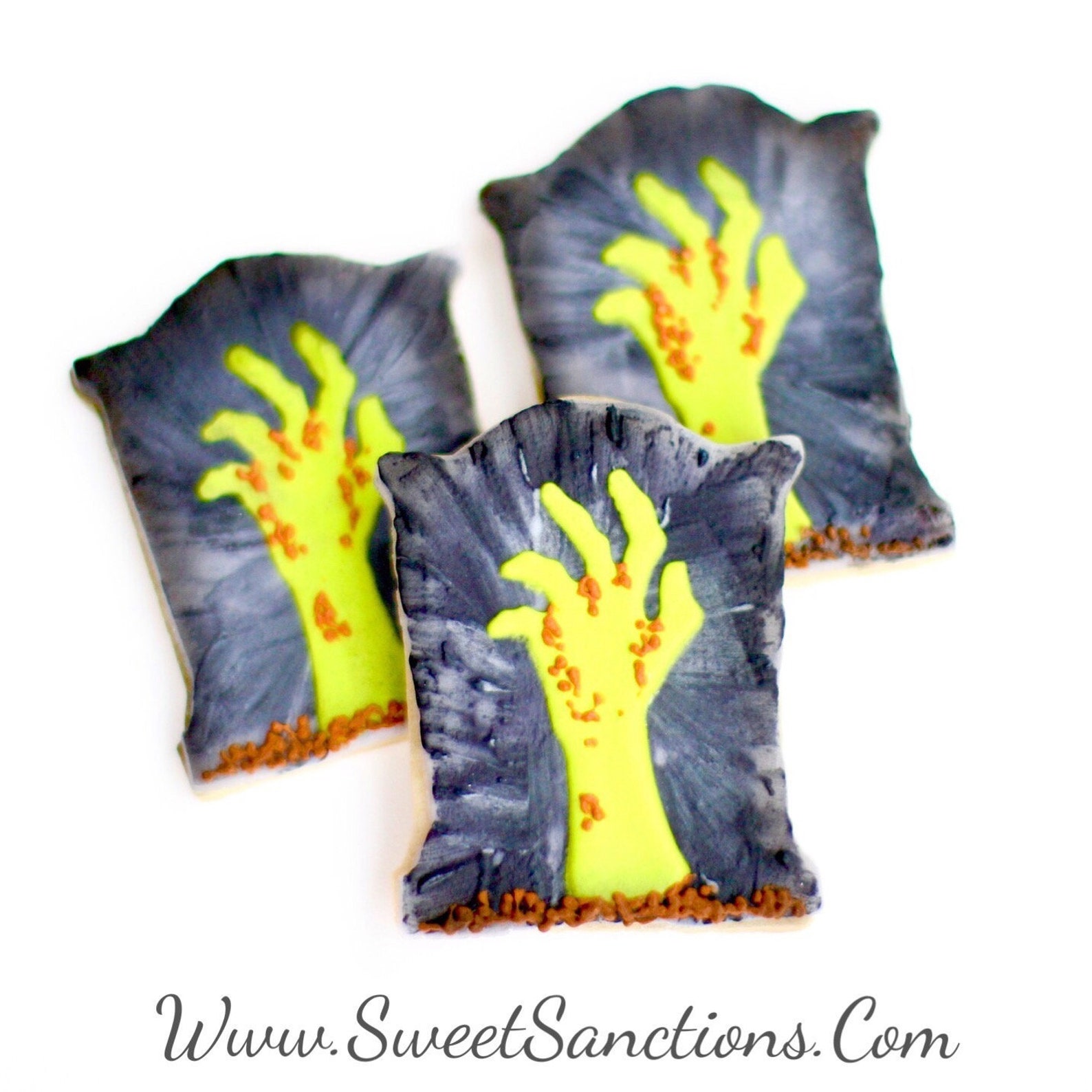 Half Dz. Zombie Tombstone Cookies! Perfect Scary Treat for any Halloween party!
Dim: 2.75×3
It's Halloween Night, Not a Soul in sight!!! Midnight Halloween cookies will make them pop up from the Grave!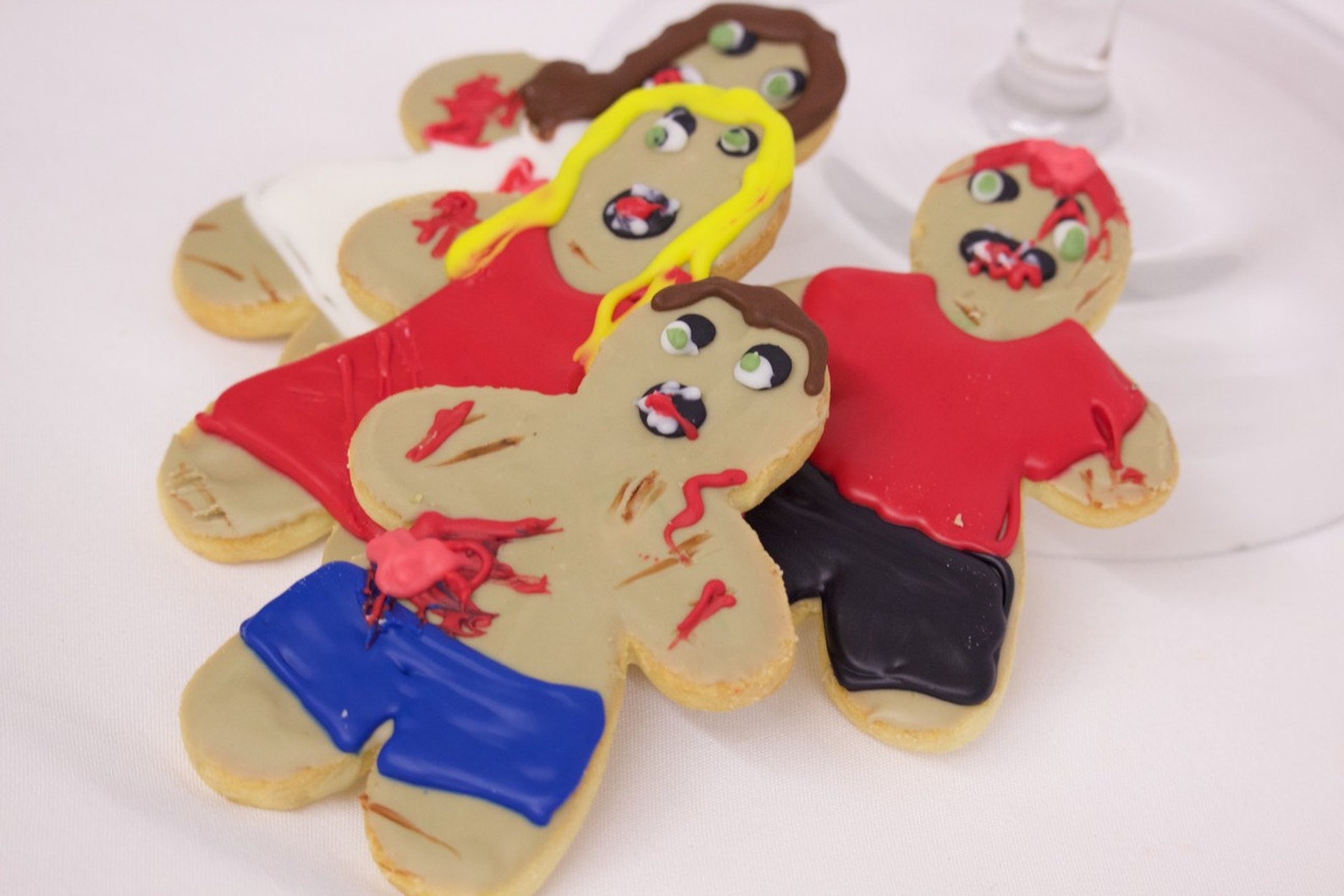 Zombie Cookies, Walkers, Fondant Icing, Cookies

ZOMBIES! These cookies may look like real zombies, but they taste amazing. Complete with blood and intestine, these zombie like cookies will be the hit of any party. Walking Dead lovers flock to these cookies in our shop.
Using a rolling pin that has been in our family for generations, these cookies are hand cut and baked to perfection. Then our skilled artisans, hand ice each cookie with our fondant icing.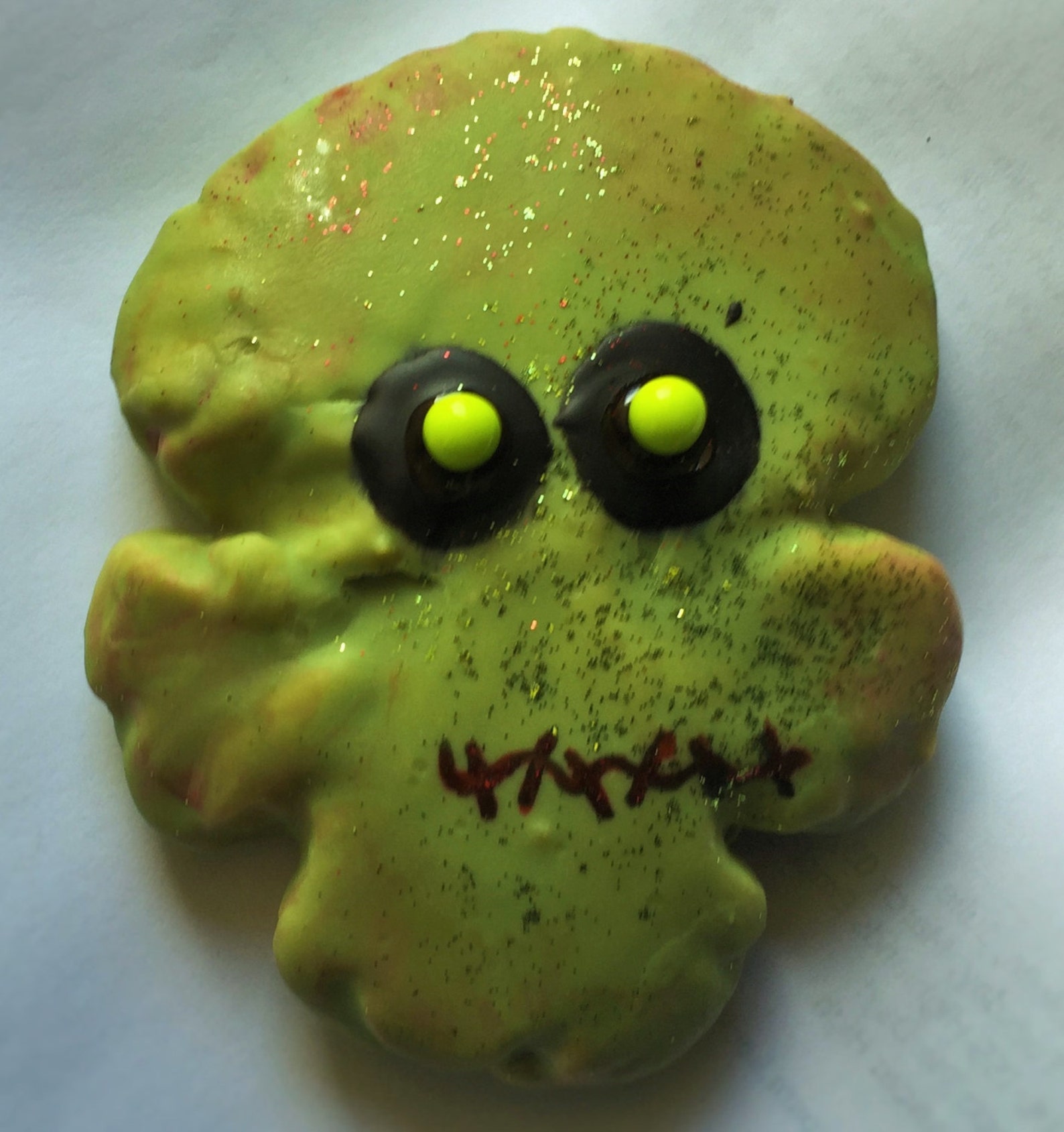 My extraordinary cookies are made of my mouth watering shortbread recipe, with only the purest of ingredients. Shortbread cookies have a long shelf life, and remain fresh. The cookies are wrapped in a food approved, cello bag, sealed and tied with a raffia bow. For special occasions, I will use ribbons, and can take requests for flavors, colors and themes.
Skull cookies measure 3.5 – 4.0 oz and measure 3.5 X 4.5 inches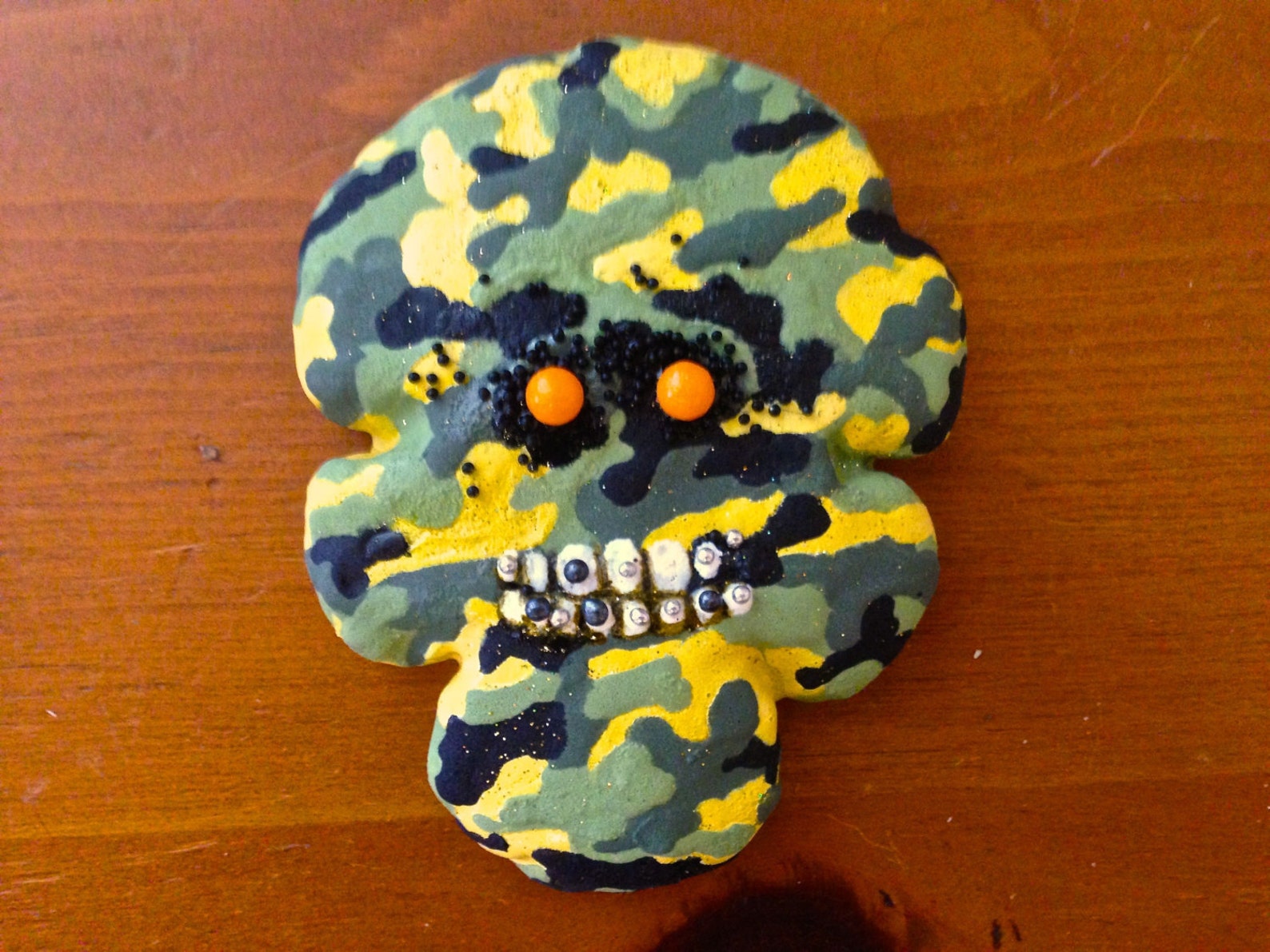 Camouflage Zombie Skull Cookie

Camo Zombie Skull Cookie perfect for the Zombie Apocalypse! Shortbread with a delicious, complimentary glaze, will delight the kids and big kids with the military design.
Cookies are 3.5 oz and measure 4.5″ H x 3.5″ W.
Here are More Halloween Cookies
Bat Cookies
Black Cat Cookies
Boo Cookies
Cauldron Cookies
Frankenstein Cookies
Ghost Cookies
Halloween Cookies
Halloween Mickey Mouse Cookies
Haunted House Cookies
Jack O Lantern Cookies
Mini Halloween Cookies
Skeleton Cookies
Skull Cookies
Vampire Cookies
Zombie Cookies
Halloween Oreo Cookies
Halloween Oreo Cookies
Jack O Lantern Oreo Cookies
Mummy Oreo Cookies
Skull Oreo Cookies
Spider Oreo Cookies
Halloween Macarons
Halloween Fortune Cookies
Halloween Fortune Cookies
Skull Fortune Cookies
Zombie Fortune Cookies
Halloween Oreo Cookie Pops
Welcome to Cookie Nibble! Cookies are one of my favorite desserts and favorite topic for a blog because there are so many types of cookies to be enjoyed. I like looking at unique cookie designs for special occasions and holidays and finding interesting designers who make them fun to look at and inspire us to create our own designs. I hope you enjoy looking at these cookies as much as I do and have fun on this site!