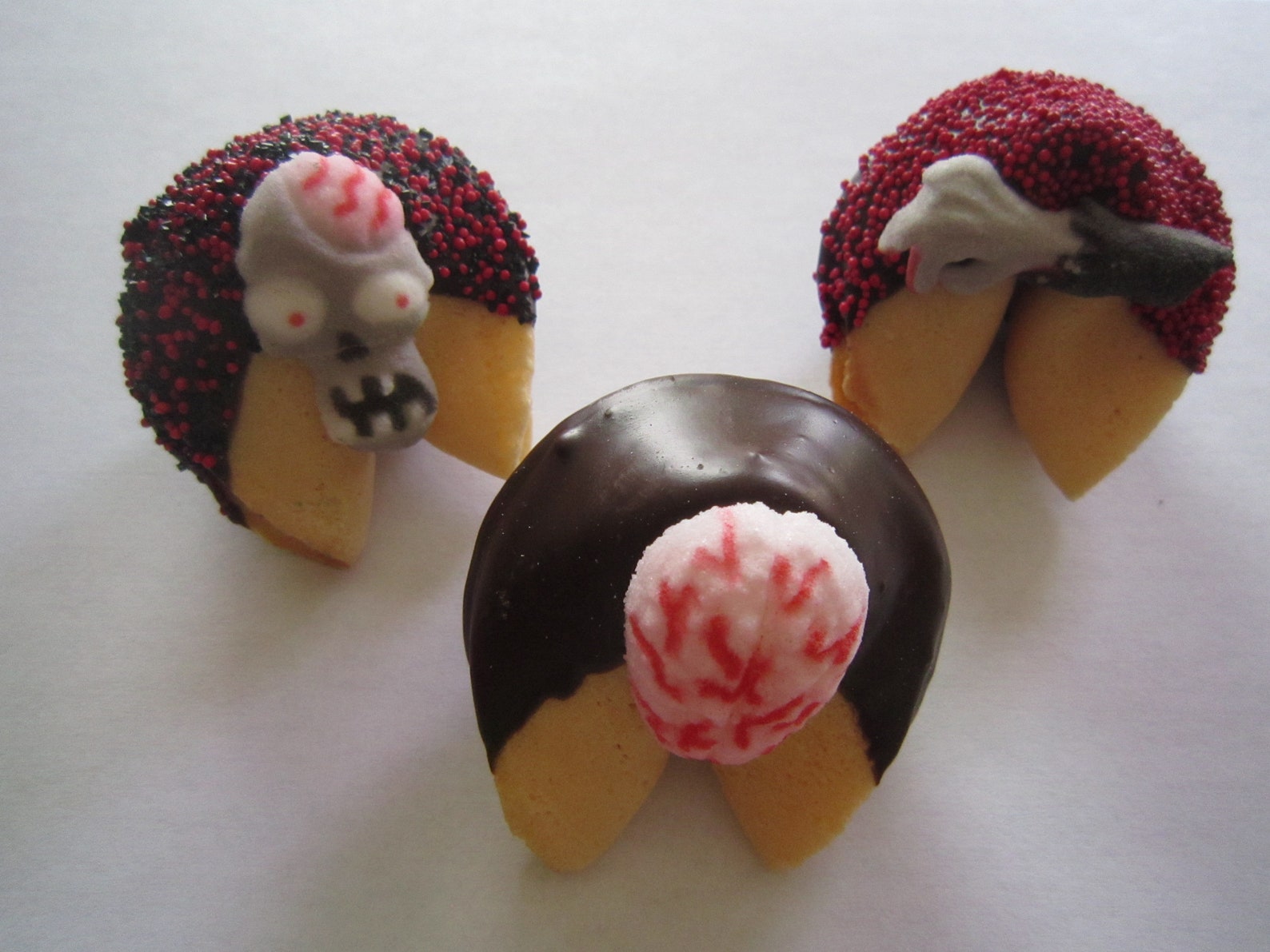 12 HALLOWEEN ZOMBIE Fortune Cookies
Assorted Chocolate Dipped & Decorated Fortune Cookies. CUSTOM Fortune Option.
* Each cookie is hand dipped in Milk Chocolate and decorated with Zombie Decors and/or Sprinkles. PLEASE NOTE – Decorated Cookies may vary from the cookies shown in photo.
*Absolutely Best Tasting Fortune Cookies around…we use REAL Vanilla! Each cookie is individually wrapped in a clear cellophane wrapper for maximum freshness and to show off your Beautiful Cookies!
Here are More Halloween Cookies
Bat Cookies
Black Cat Cookies
Boo Cookies
Cauldron Cookies
Frankenstein Cookies
Ghost Cookies
Halloween Cookies
Halloween Mickey Mouse Cookies
Haunted House Cookies
Jack O Lantern Cookies
Mini Halloween Cookies
Skeleton Cookies
Skull Cookies
Vampire Cookies
Zombie Cookies
Halloween Oreo Cookies
Halloween Oreo Cookies
Jack O Lantern Oreo Cookies
Mummy Oreo Cookies
Skull Oreo Cookies
Spider Oreo Cookies
Halloween Macarons
Halloween Fortune Cookies
Halloween Fortune Cookies
Skull Fortune Cookies
Zombie Fortune Cookies
Halloween Oreo Cookie Pops
Welcome to Cookie Nibble! Cookies are one of my favorite desserts and favorite topic for a blog because there are so many types of cookies to be enjoyed. I like looking at unique cookie designs for special occasions and holidays and finding interesting designers who make them fun to look at and inspire us to create our own designs. I hope you enjoy looking at these cookies as much as I do and have fun on this site!